Quant Bio Club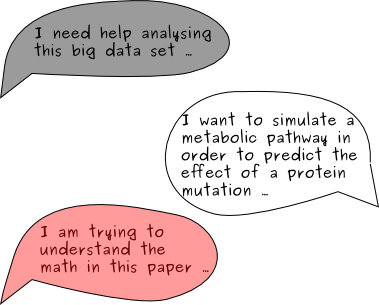 The Quant Bio Club is an open discussion and problem solving forum for all things quantitative and computational that come up in your research. Need to know whether your data is significant? Want advice on what software to use? Need a few people to test a piece of code you wrote? Bring your problem, and we will collectively work on figuring it out in an open and supportive atmosphere.
We are in session every Monday afternoon (3-5 pm) in Goldenson 229. All are welcome! If you know beforehand that you will attend, and what kind of problem you want to discuss, rsvp by e-mailing me at melanie_stefan _at_ hms.harvard.edu
There is also a mailing list youn can join for announcement regarding Quant Bio Club, and related matters. More information and instructions for joining can be found here.